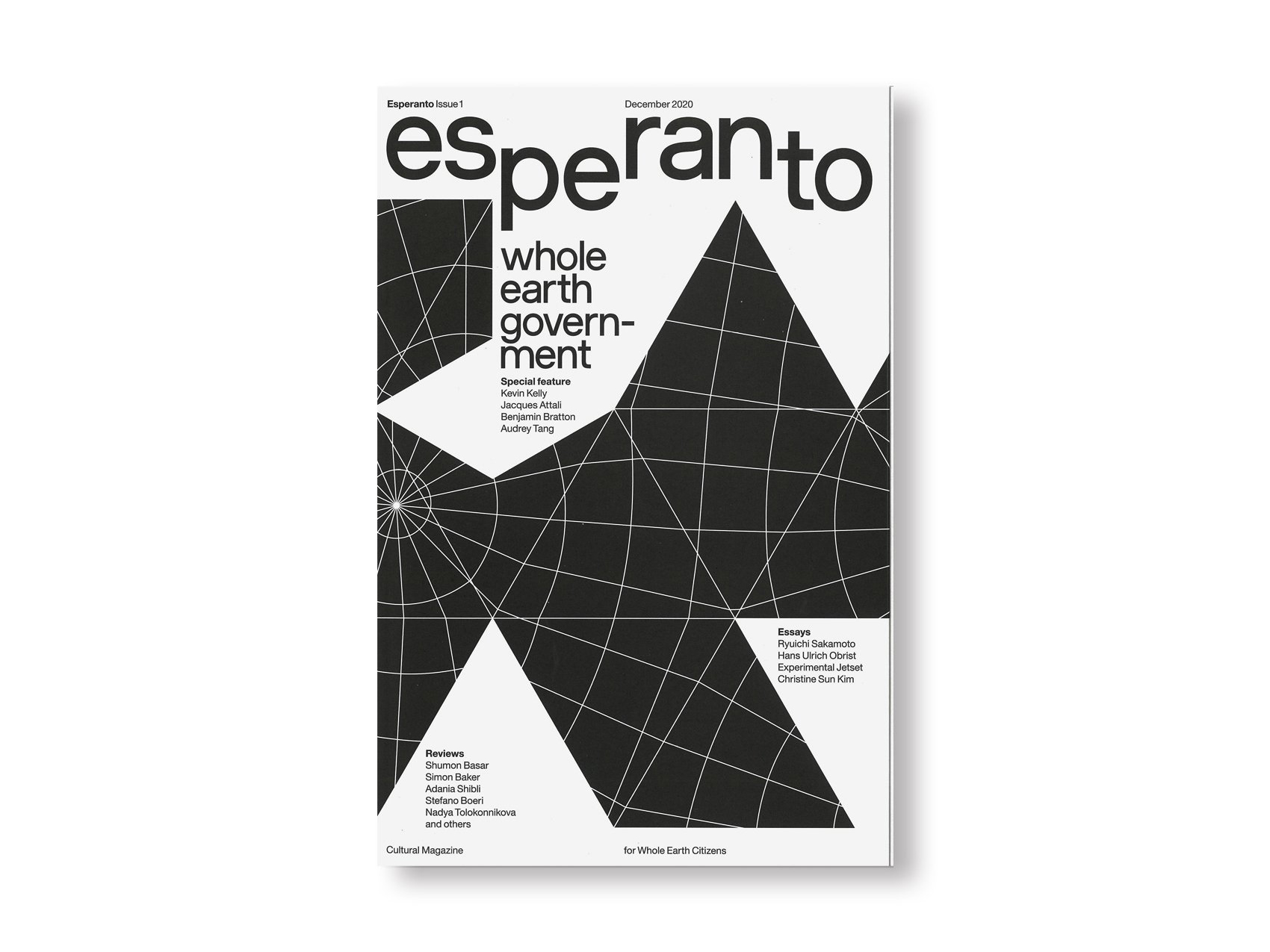 ESPERANTO ISSUE 1
WHOLE EARTH GOVERNMENT
December 2021
Issue 1 launches into an intricately interconnected world, bringing together leading intellectuals and creators to communicate 21st-century contemporary culture. It gathers various perspectives in a complex, diverse, and yet unified magazine.
SPECIAL FEATURE: This debut issue explores the concept of a "Whole Earth Government", a way to manage transnational citizenship and democracy in our global world.
Featuring interviews with Kevin Kelly, Jacques Attali, Audrey Tang, along with contributions from Benjamin Bratton, Toshimitsu Aono, and Nana Watanabe. Illustrations by Florence Deygas and groovisions.
Also in the issue—
REVIEWS on waiting for a book to review, Edmund Yeo's film Malu, the postponment of the 2020 Olympics, Precious Okoyomon's exhibition Earthseed, Sam Gendel's album DRM, Enzo Mari's retrospective at the Triennale Milano, the escalation of conflict between Armenia and Azerbaijan, and more... from Adania Shibli, Precious Okoyomon, Kim Heecheon, Tash Aw, Carlos Manuel Àlvarez, Alain Mabanckou, Makayla Bailey, Hera Chan, Ahmed & Rashid bin Shabib, Claude Adjil, Kentaro Takahashi, Minna Salami, Ben Ware, Shumon Basar, Stas Sharifullin, Koresama Uno, Roan Ching-Yueh, Graham Harman, Stefano Boeri, AbhijanToto, Kohei Saito, Tim Ingold, Nadya Tolokonnikova, Reza Negarestani, Simon Baker, RAW Material Company.
SOURCES from 13 people, 13 cities: Naohiro Ukawa (Tokyo), Kwangho Lee (Seoul), Alva Noto (Berlin), Chassol (Paris), Frida Orupabo (Oslo), Daniil Trabun (Moscow), Lin Zhipeng aka No.223 (Beijing), Theseus Chan (Singapore), Sunny Dolat (Nairobi), Barbara Sanchez Kane (Mexico), Beth Wilkinson (Melbourne), Yener Torun (Istanbul), Ram Ozeri (Jerusalem).
ESSAYS—'Creating music against time' from Ryuichi Sakamoto, 'Why I do not read lips' from Christine Sun Kim, 'The whole and the fragment' from Experimental Jetset, 'The world needs togetherness' from Hans Ulrich Obrist.